✓ Dyslexic and Phonetic Spell Checker
✓ Word Prediction and Auto-Completion
✓ Text-to-Speech with Word Highlighting
✓ Integrated English dictionary
✓ Dyslexia Optimized fonts
✓ Insert pictures and rich text formatting
✓ Download free trial today ►
❝

Since they are able to devote more of their attention to the content, learners using this app are able to increase the length and depth of their writing.

❞
-

Angela McDurmon, Instructional Technology Specialist
---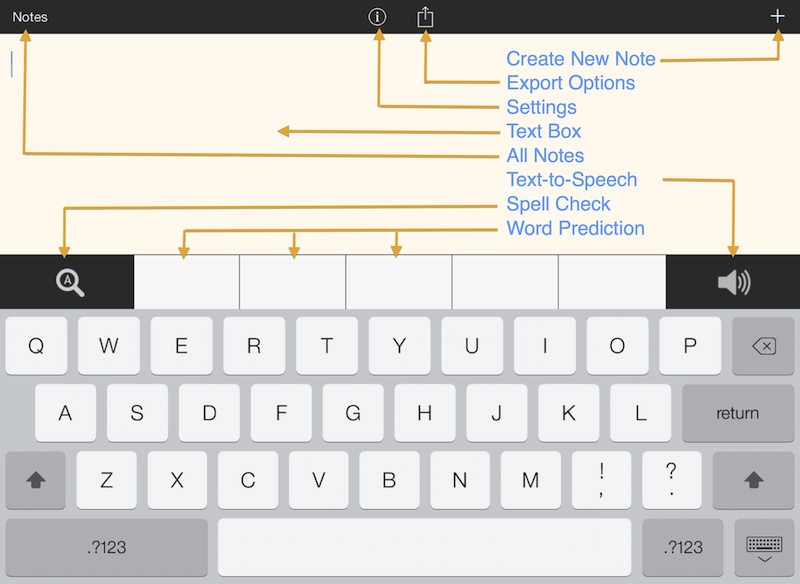 Getting Started & Support

❝

Thank you for getting back to me so quickly.

❞ -

Carol, London, UK
♦ Contact support now with any questions or feedback.
► Dyslexia Features and Types of Spelling mistakes
Spell Better offers a wealth of features to support struggling writers with dyslexia. Its word prediction and advanced spell checking features have been trained to specifically spot and correct the types of errors that students with dyslexia and dysgraphia tend to make.
In addition to common spelling mistakes, Spell Better will catch and correct the following complex errors:
Phonetic spelling erorrs (

preshius

→

precious

,

peturs

→

pictures

)
Real-word spelling errors (

peace

→

piece

).
Word boundary errors (

verynice

→

very nice

)
Letter reversal and transposal
Skipped and repeated letters (

probley

→

probably

)
Homophone substitutions
Missing or substituted vowels ("Ths is rly amzng" → "This is really amazing")
Incorrectly conjugated irregular verbs (

throwed

→

threw

).
Spell Better has been built from the ground up to catch and correct complex orthographic errors. It does all of the above while paying attention to the context of the sentence. Spell Better will correct many of these as they are being typed, while others are corrected when the spell checker is tapped.
Bottom line: Spell Better will take this sentence:
→ I throwed the dall to my cuzin and wnt imside to ahve a peace ofcake.
And correct it to:
→ I threw the ball to my cousin and went inside to have a piece of cake.
And it'll do most of the corrections dynamically, as the sentence is being typed.
Spell Better contains two fonts that have been designed specifically for Dyslexia - Open Dyslexic (opendyslexic.org) and Lexia Readable.
► Getting started with Spell Better
Students and teachers find Spell Better to be a very intuitive and easy-to-use app. With the following steps you'll be able to instruct a student on getting started with Spell Better.
Launch Spell Better and start typing. Tap on a suggested completion or predicted word to accept it and send it to the editor.
Tap-and-hold (long-press) on a suggested word to see it's definition.
Tap the magnifying glass (spell check icon) to run the powerful spell-checker.
Accept corrections by tapping on the suggested words; the spell checker will continue.
Tap-and-hold (long-press) on the Spell Check icon and tap on the "Learn" or "Ignore" buttons if you would like Spell Better to move on by learning a new word or ignoring it for this spell check session (e.g. if it has highlighted a proper noun).
The spell checker is done when it stops highlighting new words.
Access all settings by tapping the little "i" button. You can select a vocabulary size, change the text size, pick a specialized font, and much more.
► Text-to-Speech
Spell Better offers high-quality text-to-speech. It has several modes. Once you've written something in the text box:
1. Tap once on the speaker button to the right of the predicted words to hear your entire document read out in a measured, loud, and high-quality voice.
2. A tap-and-hold (long-press) on the speaker button will read out only the last sentence instead of the entire document.
3. You can also select a section of your document (say a paragraph) and tap once on the speaker button to read aloud only the selected content instead of the entire document.
4. A double-tap on the speaker button will read out the words currently listed in the prediction bank.
Spell Better will highlight the word that is being read aloud as it goes through the document.
Spell Better offers three different voices: an American Female voice, A British Male voice, and an Australian Female voice. The voices are very high quality.
If the voices sound robotic, you have to turn on "Enhanced Voices" in the Settings App. Launch the Settings App and navigate to General > Accessibility > Speech Selection (turn it ON) > Voices > English. Then make sure "Enhanced Quality" is turned ON for the voice of your choice. The enhanced quality voice is downloaded free from Apple. Once you do this, the voices in Spell Better will sound very realistic.
► Speech Recognition and Siri
Spell Bettter offers speech recognition where you can speak a word or sentence to send it to the editor. This feature works in the QWERTY Default Keyboard in Spell Better (not the color-coded highlighted keyboard). This is the default keyboard you see when you first install Spell Better. You can also select the QWERTY Default Keyboard by tapping on the little "i" button and scrolling down until you see the Keyboard Type section.
You also need to turn on Siri for speech recognition to work in Spell Better. You can turn Siri on by navigating to the Settings App > General > Siri > ON.
Once the QWERTY Default keyboard is being used and Siri is turned on, you'll be able to see a little microphone button to the left of the spacebar in Spell Better. Tap on it to use the speech recognition.

► Using the Dictionary
The dictionary in Spell Better is brought up by a Tap-and-hold (long-press) on the predicted word. If you haven't already downloaded a dictionary, you may see the "No definition found" message. But don't worry, here are detailed steps to download and use a dictionary in Spell Better. The download is completely free and comes directly from Apple.
At the end of these steps you will have downloaded, installed, and used an English dictionary in Spell Better.
1. First, tap-and-hold on a predicted word. You'll hear the word pronounced and you'll see a pop-up come into view: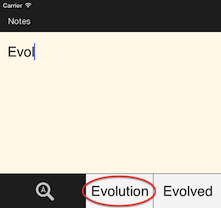 3. Tap on the "Manage" button:
4. Then tap on the cloud icon with the arrow on it next to the
English
dictionary of your choice:
5. Wait for it to download. You can see the download progress indicator: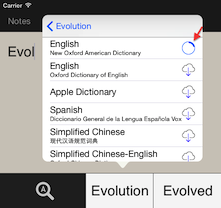 6. Once the download is complete, you'll see a little black cross next to the corresponding dictionary (this is just an indicator,
don't tap it
!). Go to the next step after you see this little black cross appear: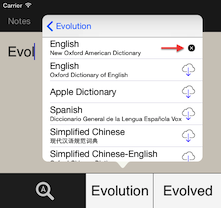 7. Then tap anywhere outside the pop-up to dismiss it. Don't worry, we'll be getting back to it in the next step. The pop-up should go away: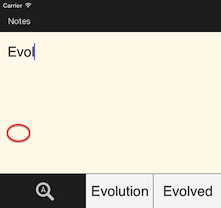 8. Finally,
Tap-and-hold
again on the predicted word and you'll see the definition come up: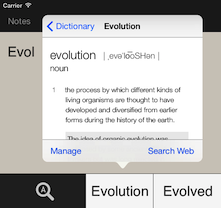 You have downloaded the dictionary and you can look up the definition of words in Spell Better.
► Inserting Pictures and Formatting
Spell Better is the only assistive app of its kind to support inserting images and rich text formatting (bold, italics, underline).

Tap or tap-and-hold to bring up the contextual menu and select the "Insert Picture" button to insert an image. Spell Better will ask permission to access your photo library (just the first time). Any photos taken through the iPad's camera or saved from Safari will be available in the photo library and can be picked for insertion. You can pan and zoom to focus on a specific portion of the image before inserting it. For now, the images are scaled to a fixed size in Spell Better but future updates will allow for pinching and changing the size of the image easily.
For formatting existing text, simply select the word, sentence, or paragraph using the traditional iPad gestures and then tap on the "BIU" button. You'll then be able to select between "Bold", "Italics", or "Underline". You can apply any one or even all three of these formatting options to a piece of text.
Once you insert images or use formatting in your document, you can export the document as a PDF from Spell Better.
► Ease-of-use and Approachability
Students consistently prefer Spell Better over other assistive writing apps because of several subjective factors. The design and affordances of the interface are inviting and easy-to-use. The shallow learning curve, color palette, icon, and the modern clean design all come together to make it an assistive app that students actually enjoy using. Spell Better combines power and friendliness like no other assistive app on the iPad.
► Upgrade to Spell Better Premium
Spell Better is free to try. You can explore all core features including the word prediction, spell correction, and even text-to-speech in the free version. However, the free version of Spell Better has certain constraints. You need to upgrade in order to export your documents from Spell Better and to create new notes and save or delete older ones.
Benefits of Spell Better Premium:
Ability to create new notes (a "+" button will appear at the top right)
Ability to export your notes by Email, PDF, printing, copying, opening in other apps (e.g. Pages), Messages, and more.
Priority Support
The upgrade price is $9.99.
To upgrade, begin by tapping the "Upgrade Options" button at the top right of Spell Better:

Wait for the price to show and then tap the "Upgrade Now" button. You'll be able to see the price again and will be asked to confirm the upgrade before the purchase is made.
Email support now if you have any trouble with the upgrade process.
► Volume Purchase Program (VPP) for Schools
There is a version of Spell Better that is compatible with Apple's Volume Purchase Program. It does not contain any in-app purchases or other restrictions. You can pay up-front for each unit, and the price is the same: $9.99. There is a 50% discount for purchases of 20 or more units.
It is called Spell Better VPP and is otherwise identical to the regular version of Spell Better (Premium). You can see it on the App Store by clicking here.
► Privacy
Spell Better does not track usage and does not log or send any data to an external server for any reason. There is no advertising within the app. It does not contain any 3rd-party software or services and all features work offline even without an internet connection.
► About the developer
Hi, my name is Navanit. I've been working on Spell Better for several years, beginning with research I conducted as a graduate student at Stanford University. I worked closely with Dyslexia specialists and assistive technology experts at the Stanford Medical School throughout the development stage. It's the only piece of software I have on the App Store and I'm fully focused and committed to adding features to it over the long term. I am proud and happy to be using my skills to solve a worthwhile problem that directly improves and empowers the lives of thousands of students and adults worldwide.
► Testimonials & Reviews
Customers love Spell Better and I receive a large number of glowing testimonials by email. Below I only include a small sample of the ones that you can click through and verify yourself instead of taking my word for it.
---